Dealing with money is always a complicated subject; when it comes to this, the best way is to do it is to be transparent. Always within the framework of legality and not leaving it to chance, we know how difficult it is to decide to invest. It is even more complicated if we don't do it the right way.
There are many ways to earn money alternatively, but just as there are honest companies, many others take advantage of the need. The client's haste introduces them to fraudulent businesses, without backing and any financial security.
However, today everything, thanks to the power of the internet, is public in seconds. Thanks to the scope achieved with this platform, people are immediately informed, even more so if it is a fraud complaint.
This, of course, allows the client to create his judgment, and in this way, better choose his options for doing business. There are all kinds of reports and analyses on the network about any sector of interest to users.
In recent years, the topic that has taken off and found its rise is that of cryptocurrencies. It has climbed positions more and more until it became a very famous method of doing business virtually.
In 2019, more than 36 million cryptocurrencies were registered, and with it, an excessive increase in this virtual currency. Many platforms also emerged to make quick and easy money with this method, many of them having the sole purpose of defrauding the customer.
Internet scam in any area is very common, but Bitcoin scams have become very famous lately. A clear example is what happened with Marketpeak.
What is Marketpeak?
Marketpeak is a global digital platform that aims to bring together Fintech and Blockchain companies. These are linked to the cryptocurrency business, with investors, buyers, and affiliates.
Its web platform allows "investors" to support new companies during their initial phase. The way they engage the customer is through multi-layered reward plans.
This is a branch that new investors generally like to join, supporting startups. However, there is always a catch. First, those who join this business seek to generate high income by putting their financial means as collateral.
How is the scam given?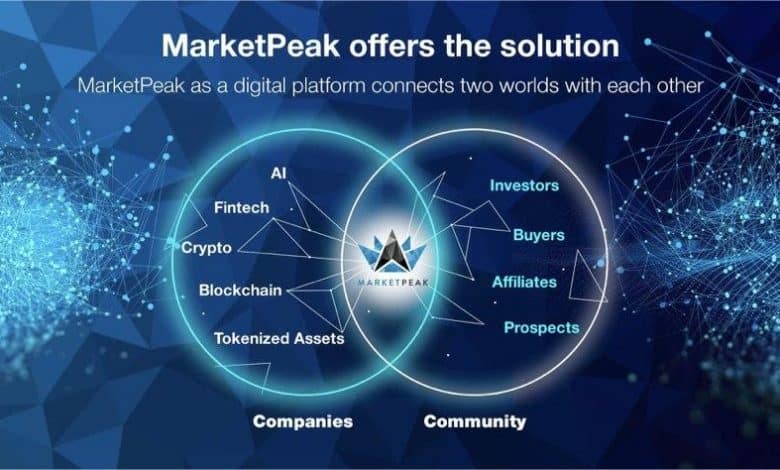 New companies are emerging almost daily, and although it is not very common, new investors are also. They are generally interested in investing in the technology branch, or if they do not know much about the subject, which is usual, the base company advises them.
This is where the scam opportunity arises:
You don't know much about it
Not knowing about it, you cannot evaluate new ideas and opportunities in the long term
Bad investments arise from disinformation
These three points are what lead to the scam, and you lose money as a result of your bad investment. Here, this may emerge as an opportunity for scammers. Why? Seeing the mismanagement of a company dedicated to this business, they can define better strategies to gain customer trust. So then they can rip you off without realizing it. More happens than you think.
Marketplace Operation
Through its financial platform, it provides technology for projects linked to the Blockchain, through private sales or pre-sales. Their approach is based on "expanding the investor community" based on an education program.
Indeed, investing in something you do not know does not help you. So here we bring the first point to scam, while you build trust in your customer.
– "Investing in something you don't understand doesn't help." That is the philosophy of Marketpeak, and here they provide you with marketing advice, personality development, training on the Blockchain topic, and others.
The customer will think, through studies and consumer analysis, that a company that helps you learn more deeply how to run your own business does not seek to scam you. On the contrary, it seeks to help you grow more and more.
– Taking into account the above, we discover why Marketpeak concentrates on the search for new investors. These people are not very skilled in the subject that can be molded at their convenience and then cheat.
Marketpeak achieved a rapid rise through investor persuasion to its digital financial technology platforms. It shows a "stable" infrastructure in the customer's eyes with large-scale benefits for both parties.
Investor Point
When you are a new investor, all these points are very attractive, and without a doubt, they make it seem really attractive and economically viable for those who want to invest.
– As a third doubtful attribute, Marketpeak offers a special rewards program to its members, obtaining a supposed sales bonus with a percentage of 56%.
Of course, this rewards program is another catch, but it works. The investor sees it as a quick opportunity to get the money back and invest more, as a chain effect.
Fintech companies are emerging almost daily; it is very important to know which is reliable and which is not. This is where companies like Marketpeak take advantage of the opportunity to serve as financial advisors and take control of the business for you in its first phase.
Marketpeak and its low reliability
First of all, the Marketpeak platform is very slow and heavy, assuming it offers quality service. Your gateway that would come to be your website fails terribly.
Second, we talk about Marketpeak having very low confidence numbers according to computer algorithms. Experts design it to check the reliability of the web according to the data it provides.
Complaints to Marketpeak
Third parties say that Marketpeak sells fake products and packages, and you can find them all over the web. This is how they take advantage of subscribers who are hungry for knowledge about cryptocurrencies.
This new financial system is becoming increasingly famous, so we must take into account how important it is to know how and with whom to invest. Platforms plan to be more decentralized in the future, and platforms like Marketpeak will continue to take this as an opportunity for scam and empty development of new companies.
What is the solution?
Create a REAL education program on cryptocurrency and Blockchain management. Thus, more and more are investing, and fewer are being scammed. It does not matter how much this method works, as it will not finish positioning ideally. If fraudulent companies continue to emerge, they take advantage of misinformation to fill their pockets and unseat others.
So, the most sensible thing is to find out about it, and continue to denounce this type of company by all means. That way, fewer will fall for the Marketpeak game and another large group of fraudulent corporations around the world.